Glastonbury's Biggest Mud Disasters
Glastonbury's Biggest Mud Disasters
This years festival goers got away very lightly when it comes to a mud drenched Glastonbury. As the fashion pack polished their posh wellies and dug out their denim hot pants for the world's biggest festival, many might have forgotten that Glastonbury is held on a working dairy farm. All it takes is a quick downpour and the thousands of revellers soon churn up the mud and remember where they are. Since its humble beginnings in 1970 as a free music festival on a farm, Glastonbury has grown into a 900-acre behemoth of the music world. That's a lot of ground getting churned up. This gruesome gallery captures some of Worthy Farm's muddiest moments…
1. Forget Flip-flops
… especially stone-encrusted flip-flops. And pink toenails.
Image source
2. Take a rubbish phone
.. because no one wants to drop their smart phone in a puddle. Or a Portaloo, for that matter.
3. Love is…
… still being up for kissing someone when they're covered in crusty mud.
Image source
4. Wade in…
In 2005, the flooding at Glastonbury was so bad that many people lost their tents and belongings and rescue teams had to wade in to help.
5. Nice day for a swim…
This brave reveller tries to swim through a murky sea of roll-mats, Pot Noodles and cider, all the while keeping his camera aloft.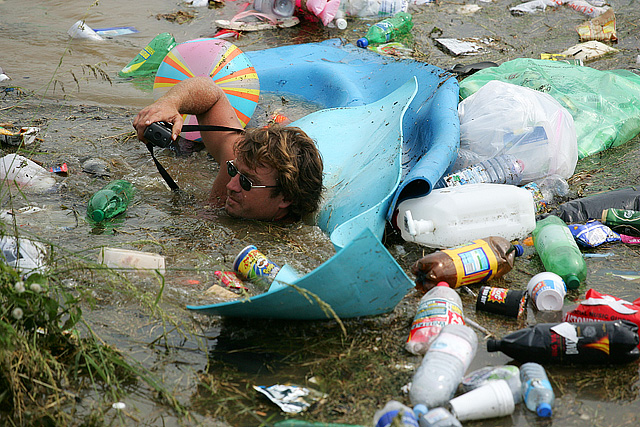 6. What's worse than a muddy Glastonbury?
NO. MORE. WELLIES.
Image source
7. Messing about on the river (of sewerage)
Another shot from 2005 – look at the dome tents poking out of the top of the water!
8. We're going to need a bigger boat…
When you're not content with taking a ride in our handy, festival kayak, give some kids a lift too.
Image source
9. Slam dunk.
If you're going to spend the weekend covered in mud, you might as well wrestle in the stuff.
10. All tied up
Probably a good idea to remove the shirt and tie first, though.
Image source
11. Taxi!
Hope the meter wasn't running…
Image source
12. Face pack
Everyone knows mud is good for your skin, which is why so many Glastonbury-goers return to work looking fresh and radiant after the festival's finished. Oh, hang on…
13. Trolley dash
From council-owned wheely bins to shopping trolleys, festival attendees will use anything they can to drag their camping gear through the churned-up mud.
Image source
14. Camouflage
Believe it or not, this isn't an image from a military training exercise, but it does depict people (apparently) enjoiyng themselves at Glastonbury 2011.
Image source
15. Beer Beard
Warm lager and mud – the perfect coupling of every good festival.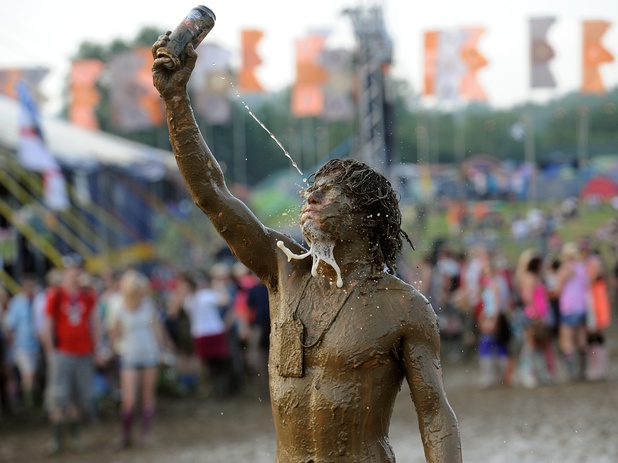 16. Fancy Dress
If you knew you were going to be hanging out on a farm and getting very muddy, the last thing you'd be likely to don would be a fancy dress outfit. Yet every year, thousands of carefully-picked costumes end up immersed in mud. This pensive seagull is one of our favourites
Image source
17. Like a pig in mud…
Every Glastonbury season, the British press to to make people feel better about the fact they weren't lucky enough to get a ticket to the festival by showing them photographs of people in soggy, sorry states. This doesn't work when the ticket holders look as carefreee as this guy, snapped in 2011.
Image source
18. Poor Sucker
Spare a thought for the people who have to try to make the farm as close to clean as they possibly can.
Image source
19. Welly Henge
… and don't bother with cheap wellies, as they'll probably end up here, the site of next year's summer solstice festival.
Image source
---
---